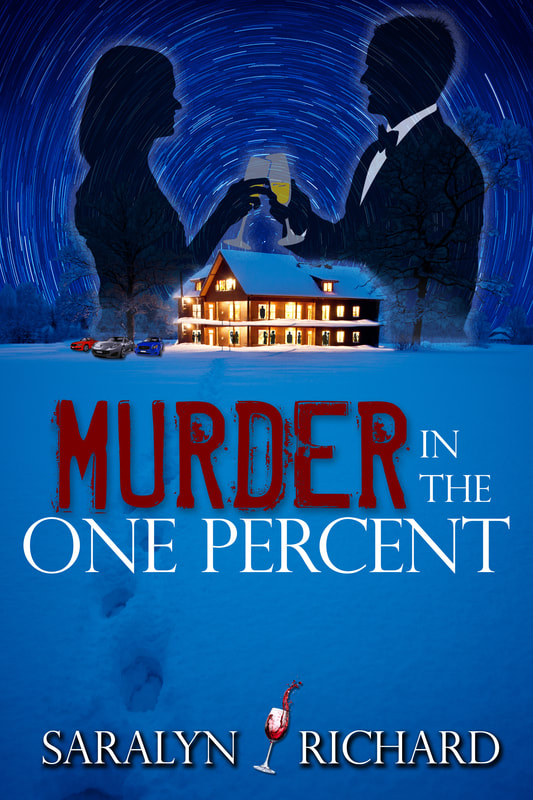 ​
Mystery and children's book author, Saralyn Richard, has been a teacher who wrote on the side, but now she is a writer who teaches on the side. Some of her poems and essays have won awards and contests from the time she was in high school. Her children's picture book, Naughty Nana, has reached thousands of children in five countries.

Murder in the One Percent, soon-to-be-published by Black Opal Books, pulls back the curtain on how the privileged and powerful rich live, love, and hate. Set on a gentleman's farm in Pennsylvania and in the tony areas of New York, the book shows what happens when someone comes to a party with murder in his heart and poison in his pocket.

When she is not writing, Saralyn likes going to movies and concerts, traveling, and walking on the beach with her husband and two dogs. She is an avid reader and is working on her second mystery, Murder at Lincoln High. Saralyn is a member of International Thriller Writers and Mystery Writers of America.
​







​
---
Praise for MURDER IN THE ONE PERCENT:

​The twists unravel, then turn around and bite you. Saralyn Richard's take on the classic murder mystery is fresh, fun, and deadly. – Bob Bickford, author of Deadly Kiss, ITW Best First Novel Award Winner

Newcomer Saralyn Richard rolls out a swanky Rolls Royce of a novel in her debut mystery, Murder in the One Percent. It's no simple task to clothe a troupe of shallow, upper-crust characters in true-to-life garments, but with this one, you can smell the over-priced cologne and catch the atomic blast blinding glare of perfect teeth while you settle in for the slow burn—there's as much intrigue here and build-up as the best the genre has to offer. Ms. Richard has a modern winner in Detective Oliver Parrott, a real cop's cop. If there's a sequel coming, I'll want first dibs. –George Wier, author of the Bill Travis Mysteries and co-author of Long Fall From Heaven

Some might call Murder in the One Percent an American cozy with nods to contemporary social issues. I call it a page-turner packed with humorous lines that made me laugh out loud. Or maybe it's best to call this delightful mystery a satire about the upper class. However you describe it, Saralyn Richard successfully delivers a rollicking whodunit that will make you stay up late at night and leave you guessing until the very end. Move over, Dame Agatha Christie. There's a new kid on the block. – Ann Weisgarber, The Promise and The Personal History of Rachel DuPree

The festering secrets and grievances of the idle rich make for a combustible combination during a weekend birthday gathering in bucolic Pennsylvania horse country... With a crisp, felicitous prose style, and a vivid eye for the kind of detail that conjures a world and characters of dimension, Saralyn Richard stakes claim to territory pioneered by P.D. James and Agatha Christie... An impressive, page-turning debut... The perfect beach read. –Mark Valadez, Executive Story Editor, USA Network's "Queen of the South," Crackle's "The Oath"

In this Detective Parrot mystery, Author Saralyn Richard gives the reader convincing insight into the lives of 21st century party-going one-percenters, many with a motive for murder, and a puzzle worthy of Dame Agatha. — Susan P. Baker, Author of Unaware, A Suspense Novel



Great News: MURDER IN THE ONE PERCENT has been assigned for review at a major trade publication. Stay tuned!

Tour Schedule for MURDER IN THE ONE PERCENT

March 4, 2018 Private book launch, Galveston, TX
March 10, 2018 Book Launch, Murder by the Book, 2342 Bissonnet, Houston, TX
​March 11, 2018 Private event, Houston, TX
​April 21, 2018 Mystery Writers of America meeting, Houston